BP Castrol is selling the following motorcycle lubricants: Castrol Power1 Racing, Castrol Power1 4T, Castrol Power1 Scooter 5W-40, Castrol Power1 Scooter and Castrol Activ. Check out what Castrol motorcycle lubricant used the best car for the car and the car right post below!
Motorcycle lubricants are one of the most important factors in determining the smooth running performance of a motorcycle. Therefore, Vietnamese people often wash cars and change new oil for motorcycles. To help you get more information … Tin Phat will summarize the quick assessment of the Castrol oils are selling in the market today through the article below:
What is the best Castrol castrol used in motorbike?
According to professional rider, reputed motorcycle repair expert. So, besides changing the oil regularly, quality … Each type of car also needs a specific type of lubricant to be able to work best. In technical terms. Lubricants not only have a lubricating effect, reduce friction between the transmission parts and corrode the engine parts, but also serve as a heat sink and detector metal. According to Kim So, oil is a "blood car". Nourishes and helps the car's engine operate steadily.
Castrol is a joint venture between BP Oil and Gas Corporation and the Vietnam National Petroleum Corporation with a well-known brand name in the world. Wishing to bring customers all the way with the lowest operating costs.
For many years … Castrol has come close to customers through market access at the car repair shop from largest to smallest. The company has partnered and supplied products to more than 7,000 retailers of lubricants for motorcycles and automobiles of all types. Designed for any specific operating environment. Castrol is proud to be one of the most famous brands in the Vietnamese market today. Learn about the Castrol lubricants right below!
Castrol Power 1 4T 15W40 0.8L
Castrol Power1 4T 15W40 0.8L is a semi synthetic lubricant. This is a genuine lubricant product of the famous Castrol lubricant. Popular for those who love car # 4 and want to give his car a good lubricant. Castrol Power 1 4T 15W40 0.8L with the formula "Engine Power Distribution" is specially formulated for those who love cars and like to have a great experience on their car.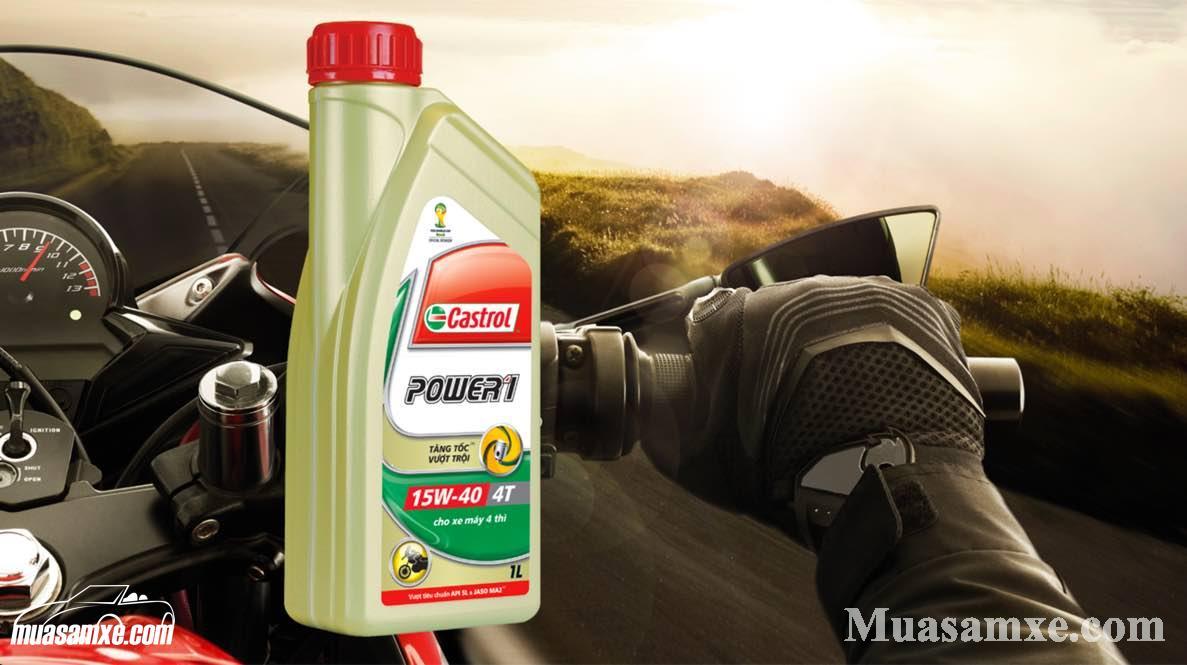 Castrol Power1 4T 15W40 0.8L is a 4-stroke lubricant developed by Castrol. With advanced technology, the lubricant is rapidly circulated and reduces the friction inside the engine most effectively. Experienced from the strictest manufacturers … Castrol Power1 4T 15W40 0.8L has shown the ability to accelerate remarkably, as soon as the user just slightly scissors.
In addition, Castrol Power 1 4T 15W40 0.8L with advanced Castrol Trizone technology. Also ensure the performance of the car is always optimal. Castrol Power1 4T 15W40 0.8L gives your car the optimum performance. Give you the power at hand! Castrol Power1 Racing motorcycle lubricant is a 4-stroke synthetic four-stroke engine oil for use in new-generation motorcycles. High performance can accelerate and maximize power at maximum speed. Full synthetic lubricant by TrizoneTM technology with the advantages of: Formula lubricant race car to maximize speed, very good control of viscosity and evaporation loss at high speed, high cutting resistance.
Castrol Power 1 4T 15W40 1L
Castrol Power1 4T 15W40 1L is a genuine lubricant for the advanced four-stroke engine of the famous Castrol lubricants. Castrol Power1 4T15W40 1L is not only the lubricant, but also the essence of a technology. Brings the power formula "Power Huy Huynh Motor" … Has been blessed with the feeling of street surfing with 4 powerful cars.
Castrol Power 1 4T 15W40 1L is capable of fast rotation and reduces friction performance inside the engine. This lubricant is capable of delivering outstanding acceleration even when the user is just slightly throttle. Keep your car running at optimum performance, giving the 4-stroke maximum power from the engine.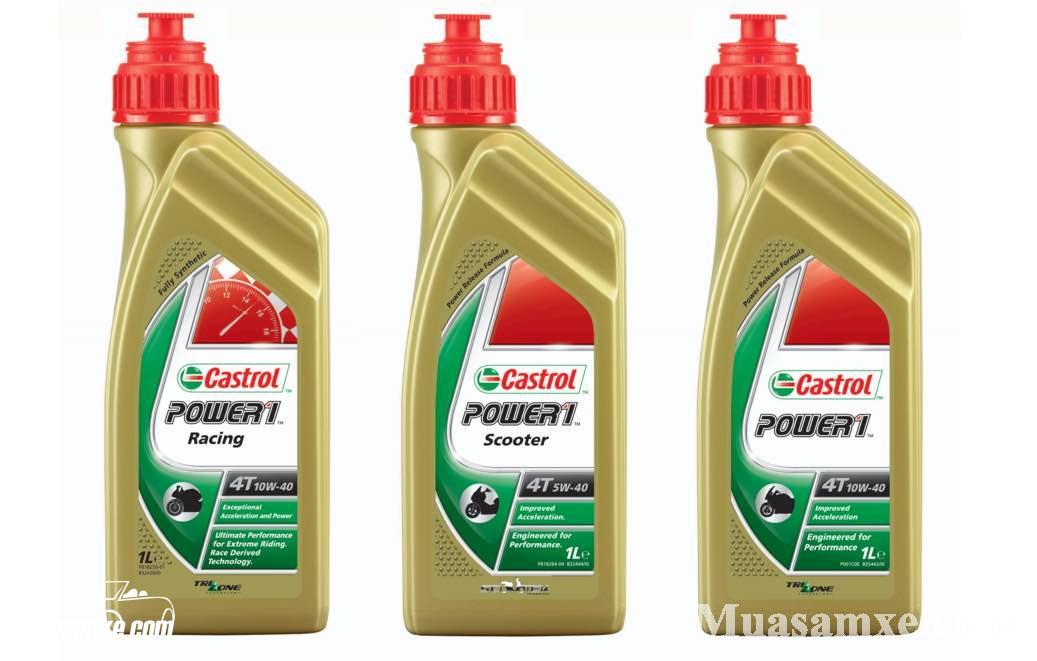 Castrol Power1 4T is a premium synthetic 4T motorcycle lubricant designed for the latest generation of motorcycles. Power1 4T is specially formulated with TRIZONE technology to provide good protection to the engine, clutch and gearbox. This is a semi-synthetic lubricant with a formula that promotes engine power. Fast rotation, maximum internal resistance. Super-fast acceleration when lightly scrolling thanks to the ability to slip clutch optimally. With these features and benefits, Castrol Power1 4T can be considered as the best lubricant for the car, helping users break through spectacular and passionate.
Castrol Power1 Scooter 5W-40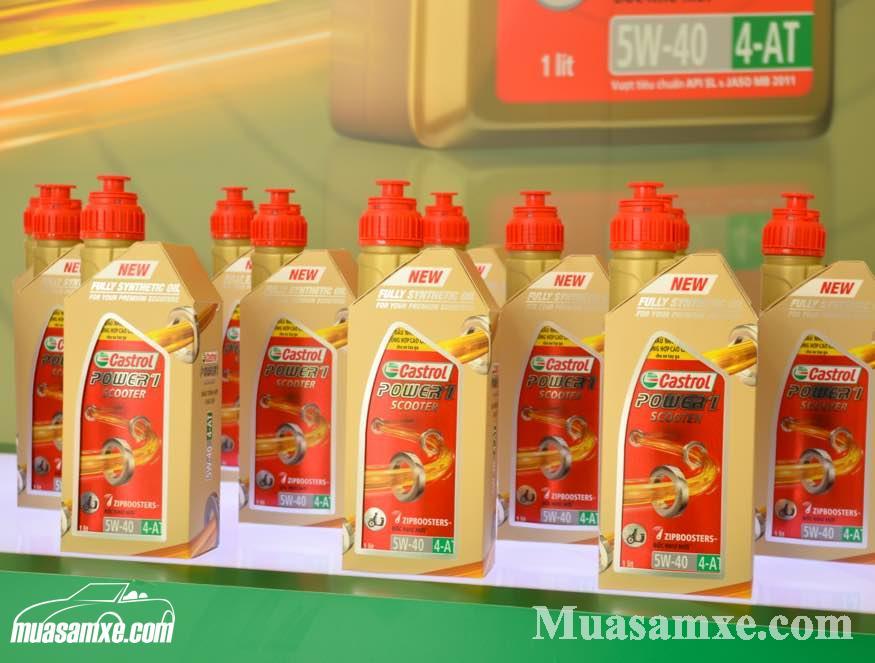 This is a new synthetic lubricant with the ZIPBOOSTERS molecule. Help your luxury scooter always be as new. Full synthetic lubricant with ZipBoosters molecules to prevent stains that interfere with movement. Make the engine cleaner, operate more efficiently, and maintain long-term performance. Reduced viscosity. Owns the Power Release Formula technology. Helps lubricant flow faster in the engine, minimizing friction loss. Designed and tested for advanced scooters, new generation scooters, large capacity, high performance.
Castrol Power1 Scooter
Castrol Power1 Scooter with ZipBoosters is specially designed for those who love driving a scooter. Semi-synthetic lubricant with ZipBoosters molecules to prevent stains that interfere with movement. Reduction of friction, Fast rotation in the engine, Stabilization of engine power. The formula promotes the power of the engine to reduce the loss of engine power, helping the scooter to reach maximum capacity.
Castrol Activ 4T
This is a lubricant for 4 stroke motorcycles. Provides continuous protection even when stopped. Castrol Activ 4T with active protection molecules adheres to the essential components of the engine.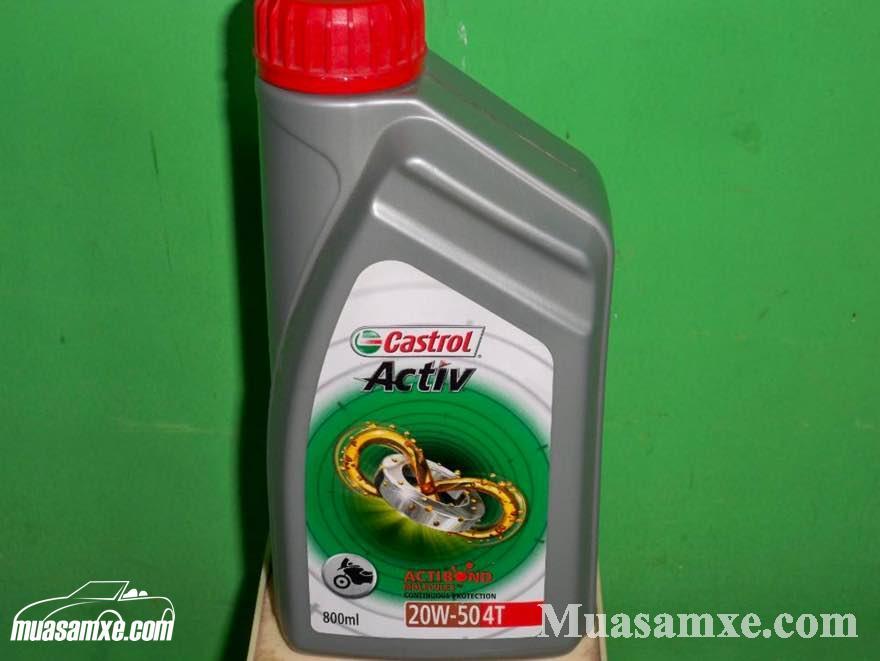 Castrol Activ 4T provides continuous protection even when stopped. For 4 stroke motorcycles, … With active molecules attached to the essential components of the engine. Helps to keep the engine running at full speed. Castrol Activ 2T with "Piston Protection" formula provides continuous engine protection. For 2-stroke motorcycles, … Castrol Activ 2T is a high performance lubricant that is formulated with the "Pit Guard" formula. In order to provide continuous protection, … Against the accumulation of carbon deposits inside the engine and on the spark plug during use, … Keep them clean for easy startup. Easy and fast.
Important note:
When to buy motor oil. Do not forget to check the oil viscosity level (usually on the box). This is an important factor to consider. For newer models, the viscosity grades are SAE 10W40, 20W40, 15W40 or 20W50. For scooters, SAE 10W30 viscosity grade; 5W40; 10W40; 15W40. Kim said, with new car, viscosity from 30 to 40 is appropriate. In addition, the user should also refer to the parameters of the lubricant for his car. Recorded in a separate manual. Once you know the type of lubricant that your car needs … You must pay attention to maintain the car by changing the oil on time.
Quote: https://muasamxe.com/